Our company uses excellent quality fabrics, tailored to the needs of its customers, both in terms of functionality and cost.
For this reason, apart from a wide variety of fabrics used and supplied by major companies, it has collaborated with reliable partners and manufactured a series of stunning fabrics with exceptional specifications that are recommended for its constructions.
The fabrics ideally meet the aesthetic, functional and economical requirements. Metal design presents the new series of Rainbow shading and sun protection fabrics.
The rainbow block out fabric is the top solution for manufacturing professional umbrellas, shading systems and awnings.
It is a 100% polyester fabric weighing 360gr / m2 with acrylic double coating, 100% waterproof recommended for areas with intense sunshine because it carries mechanical strength and a very high blackout index that makes it photo-impermeable..
In addition, with its use, a significant reduction in temperature and permeability of solar radiation is achieved.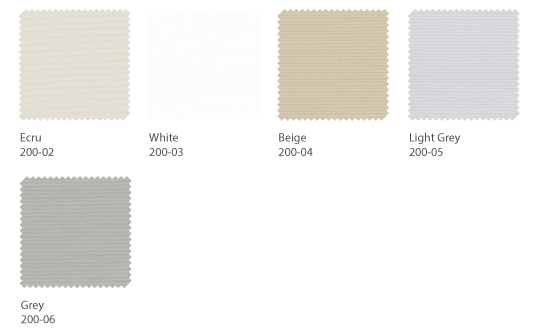 The rainbow Eco Line fabric is a very good fabric in ecru color, suitable for making professional umbrellas.
It is 100% polyester weighing 280gr / m2 with acrylic coating on one side. It is 100% waterproof and is an ideal solution for small and medium umbrellas but also with excellent behavior in large constructions.
In addition, it is the most economical solution of the rainbow series suitable for advertising umbrellas.

The rainbow classic series is the new series of metal design fabrics in 8 colours for manufacturing professional umbrellas of all dimensions, as well as shading systems
It is a 100% polyester fabric weighing 320gr / m2 with acrylic coating on one side.
The special "soft touch" coating offers high light resistance making it 100% waterproof as it has high water resistance (water column over 1.150mm).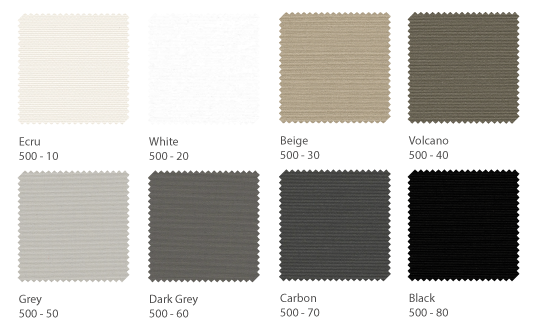 Rainbow acrylic fabrics are made of 100% solution dyed acrylic yarns, weighing 300gr / m2 ensuring excellent resistance to light and UV radiation.
They are 100% waterproof and available in a variety of 48  wonderful colours.
They are used ideally in every shading application and sun protection.

At Sunbed Fabrics, we have a range of excellent quality PVC perforated & strength of fabrics with 4×4 knitting. They are 100% waterproof and come in a variety of 7 gorgeous colours.